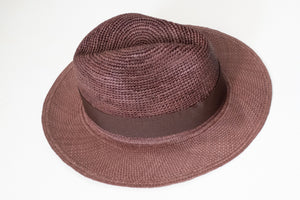 Fair Trade by Artisans in Ecuador. 100% Toquilla  is a palm lake plant found off the coast of Ecuador. The leaves are thinly cut by hand, creating thin fibers to start the weaving process. Each hat is delicately woven by a single artisan, and can take up to several months to finish a unique hat.
Our family has been in Ecuador since the 1600's. We are part of the culture, the land and are still in awe of its beauty.
Based in Phoenix, Arizona our family owned company 3 Regions Trade Co. works with artisan families that have been weaving paja toquilla hats for generations. We work with a group of women hand crafters in SigSig and weavers in Chordeleg nestled in the Andes Mountains of Ecuador.  The weavers in Montecristi are the creators of some of the finest hats. Many of the artisans we work with started learning this craft as early as 6 years old.  The sense of community is evident as you see these families come together to work these hats.  An extremely fine weave, an award-winning hat, can take months to elaborate by one single person. Wearing these hats is a part of an amazing ancestral culture which supports and contributes to the magic of these communities.